Navega libremente a través de nuestro catálogo de agencias.
Define tus necesidades y encuentra agencias que se ajustan a lo que buscas.
Deja que nuestros expertos te ayuden a elegir la agencia correcta.
Explora en busca de agencias
Busca agencias a tu medida en una base de datos con más de 38.000 agencias. Verificadas por nosotros y valoradas por otros clientes.
Haz que las agencias vengan a ti
Describe tus necesidades y presupuesto en un breve cuestionario online. Compártelo con las agencias sugeridas y empieza a recibir propuestas.
De manera fácil, rápida e intuitiva
Datos de mercado reales
Soporte personalizado
Aprende más acerca de los proyectos
Expertos para acertar con tu agencia
Ahorra tiempo y deja que nuestros asesores te ayuden a elegir las agencias que mejor se ajustan a tus necesidades, requisitos y presupuesto.
Aprende más acerca de los asesores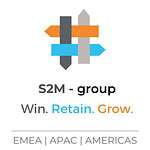 ---
S2M-group
Barcelona, España
Win, Retain, Grow through B2B Lead Generation & Account-Based Marketing
S2M-group is a leading global agency specializing in B2B Lead Generation, Sales Development and Account-Based Marketing (ABM) services specifically tailored for Software and Technology companies. Founded in 2009, S2M has grown to more than 240 experts, running programmes from our regional offices in Europe, Asia-Pacific and North-America. We have partnered with over 250 leading brands such as SAP, Software AG, NICE, etc., expanding their global reach, strengthening their lead generation engine, boosting their sales pipeline, and piloting new solutions. Our expertise in software / technology, sales and marketing development, combined with our data-driven approach, enables the team to deliver predictable results which generate growth, revenue, and a clear ROI for our technology clients.
---
Servicios
1 servicios ofrecidos por S2M-group
Nombre del servicio
---
Reseñas relacionadas
---
A partir de
---

S2M-group is a leading global account-based marketing (ABM) and pipeline generation marketing agency. It was founded in 2009 by software sales leaders, marketing, and tech experts. With a global presence and regional/local offices, we have a team of 220+ experts specializing in strategy, copy, sales development representatives (SDRs), project management, account management, and more. We are powered by advanced tools and technologies such as Data Management, Mapping/Profiling, Marketing automation, and reporting tools.

We offer fully integrated services that help leading enterprise technology companies, who are seeking a partnership with an internationally specialized ABM agency to assist them in expanding their global reach, piloting new solutions, or strengthening their sales pipeline. With the support of our team of proficient professionals who are fluent in over 22 global languages, we possess significant expertise in collaborating with internal client teams, including BDRs, SDRs, Account Executives, and Sales and Marketing leaders.

Our key differentiators include deep expertise in complex technology and software sales and ABM, multinational presence to support technology companies across various regions, and a comprehensive team of specialists with the latest tools and technologies to provide comprehensive support. We take a data-driven approach to develop ABM strategies that generate growth and revenue, and we have a proven track record of delivering real results, predictable revenue, and a clear ROI for our technology clients.

(8) Habilidades en Email Marketing

Outbound Marketing

B2B Lead Generation

Inbound Lead Generation

Lead Acquisition

Telemarketing

Account Based Marketing

Email Marketing

Lead Qualification

(6) Reseñas en Email Marketing

---
---
---
---
Equipo
200 miembros en el equipo de S2M-group
---
Premios
S2M-group fue galardonado 0 veces
---
Reseñas
9 reseñas de S2M-group
John Goh
Project Portfolio Management - Business Development Manager en Planview
Sector
Software y servicios informáticos
¿Cuál es el objetivo de la colaboración?We partnered with S2M to accelerate our pipeline of qualified leads for our software solutions. Their expertise in pipeline acceleration and lead generation, along with their transparent communication and partnership approach, made them a reliable and effective B2B Lead Generation Agency.
¿Qué es lo que más has disfrutado durante la colaboración?Our collaboration with S2M has been great - their professionalism, expertise in B2B lead generation, and communication have impressed us. S2M provided detailed reports and connected us with key decision-makers at target accounts, which was valuable to our team. Their willingness to accommodate our requests and weekly updates kept us aligned and informed. We are extremely satisfied with our ongoing collaboration and look forward to continuing to work with S2M in the future.
¿Hay algo en lo que podrían mejorar?We had a remarkable experience working with S2M. Although there were some minor process refinements that could be made, they consistently delivered great results. Overall, we highly recommend their services.
John Goh recomienda esta agencia
---
Charlie Lim
Business Development Manager en NetGuardians
¿Cuál es el objetivo de la colaboración?To accelerate business in APAC also increase sales pipeline
¿Qué es lo que más has disfrutado durante la colaboración?S2M provides us with real-time feedback on the progress of the project and proactively identifies issues then to fixed, they answered all the questions quickly and clearly.
¿Hay algo en lo que podrían mejorar?N/A
Charlie Lim recomienda esta agencia
---
Robert Neumann
Account Manager en NICE Ltd.
Sector
Software y servicios informáticos
¿Cuál es el objetivo de la colaboración?We hired S2M to accelerate our sales in Europe (mainly France and DACH) S2M offers account based lead generation services, which we considered would be a good addition to our existing sales team. They target specific accounts for us with Account Based Marketing in order to create awareness and identify where interest in our solution lies, which they would convert into qualified leads. These qualified leads are then delivered to myself and our team in the form of qualified meetings.
¿Qué es lo que más has disfrutado durante la colaboración?The fact that they live up to the results they promise, and the quality of the lead they generate. The leads geenrated by S2M have led us to close several major deals. In addition, they are highly skilled communicators, and provide comprehensive reporting to enable us to understand their activity and progress. The market insights they provide have been helpful for us to understand our market better.
Robert Neumann recomienda esta agencia
---
¿Has trabajado con S2M-group?
Comparte tu experiencia con nosotros.
---
Contacto
Datos de contacto de S2M-group
Detalles
---
---
Sede central

Carrer de la Diputació, Barcelona, Spain

---

Yunyan District, Guiyang, China, 550000

---

Via Alloro, 64, 90133 Palermo PA, Italy

---

Tour Winterthur, 102 Terr. Boieldieu, 92800 Puteaux, France

---

Pl. Ville-Marie, Montréal, QC H3B 5G9, Canada

---

555 Burrard St, Vancouver, BC V7X 1M8, Canada

---

78 SW 7th St, Miami, FL 33130, USA

---

Kemperpl. 1, 10785 Berlin, Germany

---

725 Sukhumvit Road, Khwaeng Khlong Tan Nuea, Khet Watthana, Krung Thep Maha Nakhon 10110, Thailand

---

15 Beach Rd, Singapore 190015
---